Want a job?
At IKEA, we like people who like to challenge things. And together, we find better ways to make things better for others.
Learn about our recruitment process.
Our recruitment process
We find the right talent and ensure you are a fit for our culture thanks to a simple, 3-step recruitment process. It will also help you find the job that best matches your skills and interests. After you apply for a position that you are interested in, an IKEA recruiter will reach out to you after reviewing your application. Here's the typical process you can expect:
Step

1

Phone screening

After a rigorous review of resumes, IKEA recruiters reach out to candidates through a short phone conversation. We want to hear specific examples from your past experiences. That's the first step in getting to know you and how you work.

Step

2

In-person interview

If you're selected for the second round, we'll set up an in-person interview with an IKEA leader. You'll be able to share your motivation and skillset, while we learn about your expectations. If you want to ask anything about your future job, this is the right time to do so.

Step

3

The hiring decision

If you are the right candidate for the job, your IKEA recruiter will contact you with an offer. If you are not the chosen candidate, you will receive an email providing that update, and often times, will even be recommended for other open positions.
Preparing for the interview
We all know that interviews can be stressful. However, with some preparation and tips, you'll be one step closer to getting that offer.
At a minimum, we expect you to be familiar with IKEA. We hire people with an enthusiasm for our business and an interest in home furnishings. If you haven't visited an IKEA store before, check us out at IKEA.com.

Why do you want to work at IKEA? Expect behavioral questions. They will help us determine how you're a good fit for IKEA and if we're a good fit for you. Questions change per position but always focus on how you handled various work situations in the past. So, think about it and be ready to share specific situations that you've been in where you had to use certain skills such as decision making, teamwork, problem solving, communication, etc.

If you are interested in home furnishings, share our positive attitude and values, and are friendly and willing to go the extra mile for our customers, that's a very good start. Then, each position requires different skills, education, and proficiencies.

We highly recommend that you do! After all, this is a time for you to learn about IKEA, the location and the role. Is this a match for you? Think about what you value, such as career training, leadership opportunities, career development, internal growth, work-life balance, etc. You could even ask your interviewer why they decided to work at IKEA or why they stay with us.

We are very casual. We also value uniqueness, so feel free to come to the interview in clothing that is comfortable for you, whether it's casual or more professional.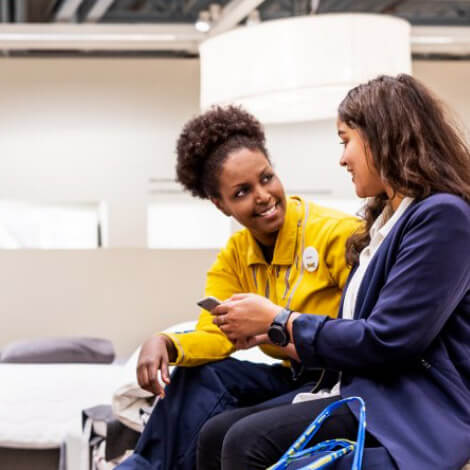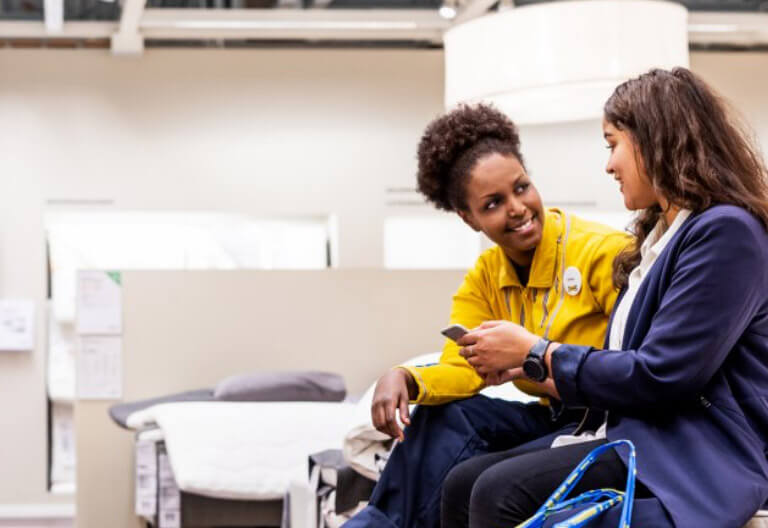 Discover & apply
Some of us wear yellow shirts. Some of us don't. But we all like to roll up our sleeves and work together to create a future where things keep on getting better. All co-workers are scattered across the globe in retail stores, customer fulfillment centers, and offices. Wherever we are, we all contribute to creating a better everyday life for the many people.
Discover our different roles now.